Max Augliere
The Ultimate Guide For Spearfishing Massachusetts
Updated: Aug 29
Spearfishing tautog in New England
You've seen the videos of 'catch and cooks' on Youtube, or Fishpeople by Patagonia, or the countless other clips of people emerging from the sea wearing camo wetsuits holding up a fish and looking like a descendent of Neptune. This is spearfishing, and many people think it can only be done in places like Miami or the Bahamas, or some far away islands. They're wrong. If you're living in or near Boston or Massachusetts, there is a target-rich environment beneath the waves full of delicious species to spear. We wrote this guide to help you know which fish you can spear, places to go, and gear you'll need. Read on!
Is Spearfishing

Legal

in Massachusetts?
Yes, spearfishing is legal in Massachusetts. You'll need a Massachusetts saltwater fishing license, which you can buy for $10.00 on Mass.gov. This license is also valid in New Hampshire, Rhode Island, Connecticut, and Maine, so if you wanted to go down to Rhode Island to shoot striper, you could use that license (spearfishing striper in Massachusetts is illegal).
What fish can you spear in Massachusetts?
Large male tautog taken on spear
Some of the more common fish you can spear in Massachusetts are:
Tautog also known as blackfish.

Scup also known as porgy.

Pollock.

Flounder.

Fluke

Black sea bass.

Cunner
We've put together a list of the common fish to spear in Massachusetts and their regulations. Always verify the regulations with the Massachusetts fisheries website before going on your dive to ensure there have been no changes.
Tautog
Tautoga onitis also known as Tautog or blackfish
Tautog are the perfect fish to target for beginner spearfishermen and pros alike. They inhabit shallow rocky coastlines in Massachusetts during warmer months, which makes them another great species to target while shore diving. Their diet consists mainly of mollusks and crustaceans, making their meat sweet and delicious, and prized by chefs.
Massachusetts tautog regulations
Minimum size of 16 inches, and only 1 fish may be bigger than 21 inches.
April 1 - May 31 you're allowed to keep 3 per person per day.

June 1 - July 31 you're allowed to keep 1 per person per day.

August 1 - October 14 you're allowed to keep 3 per person per day.

October 15 - December 31 you're allowed to keep 5 per person per day.

January 1 - March 31 tautog are closed.
Scup
Stenotomus chrysops also known as scup or porgy
Scup, also known as porgy are another delicious fish that you can spear in Massachusetts They can be found nearshore in shallow waters, often hanging out over the sand and grass. They blend into their environment well, and often will hang just outside of the range of your speargun or pole spear. They are excellent table fare and can be made into delicious sushi if prepared correctly. Scup start showing up in Massachusetts around June and as the season progresses into the warmer months, larger fish will follow.
Massachusetts Scup regulations
Minimum size of 10 inches.
January 1 - April 30 you're allowed to keep 30 per person per day.

May 1 - December 30 is to-be-determined and we will update this post as soon as Mass.gov releases the regulations.
Pollock
Pollock
Pollock is another fish common in the warmer months in Massachusetts. "Harbor Pollock" refers to smaller younger fish, as the adults primarily live off-shore. Harbor Pollock are often small, so a well placed shot is important in order to not to ruin the filets. Their meat is white and flakey and is often used for fish and chips, fish tacos, and fish sandwiches. Pollock begin appearing in Spring and can be caught into late Fall.
Massachusetts pollock regulations
They are open year-round with no size limit and no possession limit.
Winter Flounder
Winter flounder also called sole
Flounder are one of the iconic species of the North East, and spearfishing them is fairly easy, if you can spot them camouflaged on the seafloor. Flounder are delicious and commonplace throughout many restaurants and fish markets. Flounder are typically caught in Spring and start showing up around May. We like to use a pole spear when targeting them, and our favorite pole spear is from a company called Gatku. If you type spearfishingRI in the checkout notes, they'll throw in a free dive knife for orders over $100.00.
Massachusetts Flounder Regulations
Minimum size 12 inches.
Open year-round and you're allowed to keep 2 fish per person per day.

In the Gulf of Maine, you're allowed to keep 8 per person per day.
Fluke
Paralichthys dentatus or fluke
Fluke are another well-known species of the North East that you can spearfish in Massachusetts. Similar to flounder, you'll find them camouflaged on the bottom. Their meat is white and flakey, and we recommend spearing them with a polespear. Fluke can be found in Massachusetts during the warmer months starting in May.
Massachusetts Fluke Regulations
Minimum size of 16 1/2 inches.
May 21 - September 29, and you're allowed to keep 5 per person per day.
Tautogolabrus adspersus or cunner
Cunner
Cunner are also called Bergall, and in Massachusetts they are a non-regulated species. They are small, averaging between 6 and 10 inches, making them difficult to spear. They are a relative of the tautog, and their meat is delicious, white, and flakey. If you spot a larger one, harvest it with a well placed shot in the head to avoid spoiling any of the meat on the filets.
Black seabass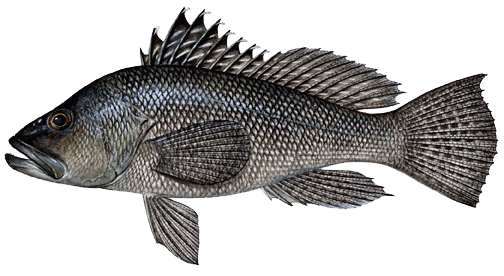 Centropristis striata or black sea bass
Black seabass are a challenging fish to spear because they are elusive, often hovering just outside of small cave and backing back into the cave once they are spotted. They are one of the most coveted eating fish in the northeast, having very little blood in the meat which creates white flaky filets. 2023 Black seabass regulations have not been released yet for Massachusetts, we'll update this post when they are.
You're not allowed to spearfish Striper in Massachusetts. You'll have to drive to Rhode Island if you want to do that. Luckily, your Massachusetts saltwater fishing license is valid in Rhode Island. We wrote a guide on spearfishing in Rhode Island which you can read here.
Lobster
Homarus americanus or maine lobster
Few animals symbolize New England more than the lobster. Freediving for lobster in Massachusetts is an exciting activity to add to your foraging. You'll need to purchase a lobster permit, which is separate from your saltwater fishing license and costs $55.00 if you're a resident. If you're a non-resident, you must temporarily live in a coastal Massachusetts municipality and own more than $5,000.00 in real estate, you can then get a non-resident license for $75.00. You can purchase a lobster permit here.
How to freedive for lobster in Massachusetts
The first step in diving for lobster is finding them. They'll often be in rock caves, so you'll want to dive down and peak under those rocks, a dive light is helpful here. Once you've found the lobster, it's as simple as grabbing them without letting them grab you!
When diving for lobster, you must carry a measuring device. The measuring device must be sized for the lobster in the area you intend on harvesting from because different areas will have different size regulations.
Massachusetts Lobster Regulations
In the Gulf of Maine, the carapace must measure 3 1/4 inches and not bigger than 5 inches. It's Illegal to possess any female lobster that bears a notch or indentation in the base of the flipper that is at least as deep as 1/8 inches with or without setal hairs. It is unlawful to possess or land any lobster that is egg bearing, from which eggs have been forcefully removed, or that has come in contact with any substance capable of removing eggs. You're allowed 15 lobsters per person, per day.

In the Outer Cape Cod Recreational Lobster Area the carapace must measure at least 3 3/8 inches, and there is no maximum size. The same rules apply for V-notches and egg-bearing lobsters, you can't take those. You're allowed to keep 15 lobsters per person per day.

In the Southern New England Recreational Lobster Area the minimum carapace size is 3 3/8 inches and the maximum size is 5 1/4 inches. You're allowed 15 per person per day and again, no taking of egg-bearing or certain V-notched females. This gauge will work for these lobsters, though the maximum size on this gauge only goes up to 5 inches.
Where to

spearfish

in Massachusetts
Plymouth, Massachusetts
Massachusetts has some of the best spearfishing opportunities on the East Coast. Places like Rockport, Nahant, Gloucester, Salem, Buzzards Bay, are awesome places to explore for diving. These are our top spots for getting started spearfishing.
Nahant
Nahant Beach is a known spot for SCUBA diving and an excellent place to spearfish. Tautog, Black Seabass, and Harbor Pollock are often seen here. It's best to dive this site when the winds are from the west or light out of the south. The bottom slopes gradually down to 35 feet. Parking is limited to residents of Nahant, but you can request permission to park by stopping at the police station on your way in. Visibility at Nahant ranges from 5 - 30 feet with 10-15 feet of visibility being considered a good day.
Chandler Hovey Park
Another popular dive site in Massachusetts is Chandler Hovey Park. During the summer months, the boat traffic here can be a hazard, so be sure to bring a flag and try to dive this site during weekdays. Flounder, lobster, and scallops can be found here when diving to the east along the rocks. The maximum depth here is about 55 feet.


Salem Willows Park
This is a great spot to dive at high tide when looking for Tautog. Diving along the rocks at Juniper point offers the most structure. This can be another spot with a lot of boat traffic during the summer months especially, so consider diving this spot on weekdays.


Cape Ann
Cape Ann has a long stretch of rocky shoreline that holds tautog, harbor pollock, black seabass, and more. You'll frequently see striped bass here as well, but you're not allowed to spear them in Massachusetts. Old Garden beach is a well-known dive site in this area and there are often large schools of Pollock.


Folley Cove Glaucester
Folley Cove is a popular site for SCUBA divers. You'll find tautog, pollock, and the occasional flounder. Most of the dive is about 30 feet, but it drops off deeper in the mouth of the cove, we recommend sticking around the rocky shores and diving those ledges.
Cathderal Rocks Rockport
Cathedral rocks is a beautiful dive. It can be challenging though because it is facing the open ocean, which means swells and shore breaks can make getting in and out difficult. Be sure you've checked the forecast, and even then, don't go if you get there and large swell is in the water. Here you'll find lobster, pollock, tautog and other edible species to spearfish.


brace cove
Brace cove is an excellent place to spearfish, as the cove itself offers a lot of protection from swell. However, if you decide to swim around the rocks, be mindful as this is open ocean and be treacherous due to swell, current, and boat traffic. Lobster, haddock, pollock, and other species frequent this area.
How to find new spots to spearfish
Castle Rock Park in Marblehead, Massachusetts
When looking for spots to spearfish, rocky coastlines are generally going to be the most productive. You can scout these areas by using tools like Google Earth, the more secluded they are, the more fish they will typically produce. Getting off the beaten path is part of the fun of spearfishing, and you can buy a bag to hold your gear, like this bag from Neptonics. If you show up to a rocky spot with clear and flat blue water where you can see the bottom, you're doing something right.
Spearfishing Safety
Diving safely is critical, and the safety does not just happen in the water, it also happens while you're researching your dive site and dive day. Your main concerns are going to be the conditions, like wind, swell/waves, water temperature, boat traffic, and visibility. Be mindful of the current, oftentimes you'll want to dive at slack tides, so reference a local tide chart when picking your day. You can find a tide chart for Massachusetts here. Never dive alone and always tow a dive flag so boaters can clearly see you. If you're spearfishing around other divers, give them a wide berth, and be mindful of any rod and reel fishermen from the shore, giving them plenty of space as well. Use a tool like Windfinder.com or Magicseaweed.com to check marine conditions in your area to avoid a rough ocean. Remember, forecasts are educated guesses, and if you ever arrive at a spot and find it exceeds your comfort level, don't go out. Black outs are one of the biggest concerns with freediving, and if you're by yourself or with an unaware buddy, they are lethal. This is why never diving alone is so important, and additionally, being aware of your buddy and your buddy watching you. This site is a good resource for understanding more about shallow water blackouts.
Massachusetts spearfishing gear
There's no one size fits all approach to what gear you will need. For example in the summer, you may not want a wetsuit, but come Spring and Fall you'll need a wetsuit of at least 3mm, and in the colder months, you'll want to go thicker, like 5 or even 7mm with gloves and booties too. We've put together a list of gear to get you started spearfishing in Massachusetts.
Wetsuit
The difference between a spearfishing wetsuit and a regular wetsuit is that spearfishing suits lets less water in, meaning they keep you warmer. Does this mean that you can't snorkel in your surfing wetsuit? No, but if you plan on spending any considerable length of time in the water, a 5mm spearfishing wetsuit will keep you way warmer than a 5mm surfing wetsuit.
Open cell wetsuit and Gatku pole spear
We recommend getting a 5mm or 3mm open cell wetsuit. A 5mm suit with gloves and booties will allow you to dive comfortably through October and some of November. Most spearfishing suits come in two pieces. You can consider mixing and matching to make your suit more versatile by getting a 5mm top and two sets of pants, 5mm and 3mm. We recommend to get a thicker wetsuit than you think you'll need because we feel it's better to be a little too warm than a little too cold. This is a good budget spearfishing wetsuit. If you wanted to spend a little more money, we recommend the Quantum Stealth Suit in 5mm, and you can even get it in 7mm if the five is not keeping you warm enough. If you are considering diving those colder months like September, October, and November (October is often one of the best months to spearfish in Massachusetts) then you'll need some insulation on your hands and feet. We use these budget gloves and they work fine. Gloves are also smart to spearfish with in general because they protect your hands from fish spines, rocks, and other hazards.
Mask and Fins
There is an overwhelming amount of products to choose from for masks and fins, but the most important factor is going to be fit. Does the mask fit your face? A mask that fits poorly will leak and fog up regularly, and fins that don't fit will will leave you with blisters or worse, they'll fall off mid dive. Purchasing fins online is typically okay if you know your shoe size, but purchasing a mask online is a risk. If you can find a store near you, stop by and ask someone to help you find a good fitting mask.
Speargun and POle spear
Spearguns and pole spears come in many shapes, sizes, and lengths. Each type has advantages and disadvantages, some are better for reef hunting, some are better for blue-water hunting, some are for close quarters hunting, some are meant for larger fish, some are meant for smaller fish, you get it. The best speargun for getting started is going to be the one that fits the needs of your skill level and environment.
Spearfishing tautog in Massachusetts
In Massachusetts, if you are diving from the shore, you'll want to get a small to midsize gun. The fish you are targeting will typically not exceed 20 lbs, and you'll have limited visibility. The perfect gun for this type of hunting is the Rob Allen 70cm Tuna. I've been using mine for 10+ years. It's big enough to handle the biggest tautog you'll find in the area.
How much weight should you wear?
Weightbelts are another highly individualized aspect of spearfishing (are you noticing a trend here?). Some people like to dive with a lot of weight because it makes getting down and staying on the bottom easier, but that means coming up is harder. Some people like to dive with very little weight. In Massachusetts, you'll be carrying more weight than you would if you were diving in Florida, because your wetsuit will be thicker, and that extra rubber adds buoyancy. The best way to see how much weight you need is getting in the water and treading water, then take a big breath and just float there without kicking, you should float at about your collarbone level. Then sigh all of your air out and you should still float, your head might be slightly under the water, but you shouldn't be sinking to the bottom.
Other gear
The rest of the gear you'll need is not specific to Massachusetts, which means any gear will do. For example, a dive knife is dive knife and is applicable almost anywhere. We wrote a guide for beginner spearfishing gear here, if you're interested in reading that.
How long do you need to hold your breath to spearfish
The truth is, you don't need to hold your breath for 5+ minutes in order to spearfish, especially in Masachussets, where a lot of your target species can be found in water as shallow as five feet. Most of our dives are about 40 seconds to a minute and 15 seconds, and this is plenty of time to shoot a nice tautog. There are plenty of spearos who are diving over 100+ feet in pursuit of legendary fish. But they are the outliers, and have many years of experience, and diving those depths is not necessary to start spearfishing and gathering your own food. Mike Boyd has a great video on how he trained to hold his breath for 4 minutes in just two weeks.
We hope you enjoyed this guide and are inspired to get out there and give spearfishing a try. Finding your own food in the wild is amazing and more accessible than many know.
Interested in guided spearfishing?
If you're curious about about spearfishing in New England, go to www.spearfishingRI.com, we offer 1 on 1 experiences in the wild to help deepen your connection with nature and accelerate your ability to harvest your own food.