Max Augliere
The Ultimate Guide for Spearfishing Rhode Island
Updated: Aug 29
Freedive Spearfishing for Tautog In Rhode Island
There is a frontier waiting beneath the ocean's surface in Rhode Island. 400 miles of coastline in "The Ocean State" gives spearfishers a wild opportunity to harvest these productive waters teeming with massive schools of striped bass, tautog, black sea bass and more. If you're interested in learning how to spearfish in Rhode Island, keep reading. In order to spearfish legally in Rhode Island you must possess a saltwater fishing license. The cost of this license is $7 annually if you are a Rhode Island resident and $10 if you are a non-resident. You may also buy a temporary seven day license for $5. All of these licenses are available to purchase online at the Rhode Island Hunting and Fishing website.
Your Rhode Island spearfishing license is also valid in Maine, New York, and Connecticut, and Massachusetts, and each of those states have amazing opportunities for spearfishing as well. We wrote a guide on spearfishing in Massachusetts, so if you're around Boston, don't count yourself out of the spearfishing community.
Which Fish can I spear in Rhode Island?
We're going to simplify this list down to the species you are most likely to see while spearfishing in Rhode Island.
Tautog
Tautog are considered by many to be the best tasting fish in New England. Spearfishing tautog, or tog, as they are better known is a great fish for beginner spearfishermen because they are territorial, not very skittish, and can be found in water as shallow as five feet. Tautog love structure, and they are territorial. Fishermen often report catching Tog off the bow of the boat while not getting a single bite off the stern. This happens because tautog often stay in very specific areas. While this presents challenges for rod and reel fishing, it becomes advantageous for spearfishing because they have predictable movement patterns underwater, often not venturing far away from their "home rock". Here is a video of spearfishing a tautog with a polespear. Their features also make it easy to know when they are big enough to shoot. Male tautog will develop a white chin, and this can be a good sign that the fish is harvestable in size. Many new spearfishermen attempt to determine if a fish is of legal size by the length of the fish underwater. This is difficult to do. A more reliable approach is to understand what features of the fish become more pronounced with size, and to look for those features. Tautog are in season April 1st - May 31st, you may keep 3 per person per day, and they must be 16 inches. Tautog are then closed until August 1st. Tautog season then runs from August 1st to December 31st.
Black Sea Bass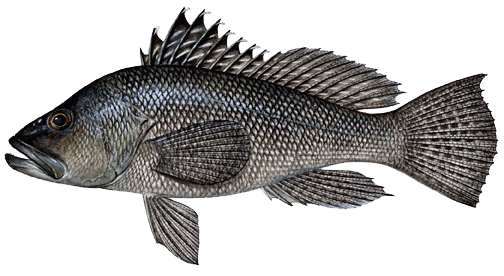 Black sea bass are another delicious fish with white flakey meat. Spearfishing black sea bass can be more challenging to hunt than tautog, they are far more elusive and tend to be deeper. Black sea bass season is June 24th - December 31st. They must be 15 inches to harvest and you can keep 3 per person per day. In September that goes up to 7 per person per day until December 31st. Black sea bass also love structure and rocks, oftentimes they can be seen hovering at the mouths of rock caves. One feature to look for on black sea bass is the hump on their back in front of their dorsal fin, as they become bigger, this hump becomes more prominent.
Striped Bass
Striped Bass are an iconic species of the Northeast. They are fast, powerful, exhilarating, and delicious. Rhode Island is one of the few places where you can spearfish striped bass, they are off limits for spearfishing in many other states. As of 2023, the Striped Bass regulations for Rhode Island have changed. Keeper Striped Bass must be between 28 and 31 inches, and you may keep one per person per day. Striper move up and down the coast depending on the season. They start to show up in larger numbers in the Summer and Fall in Rhode Island, often gathering in large schools. Spearfishing striper off Block Island is a world class spearfishing experience, but they can be targeted all over Rhode Island.
Scup
Scup are a smaller fish with tasty firm white meat. Spearfishing scup can often be done in the same area where black sea bass and tautog can be found. They can be challenging to hunt because of their elusive behavior, often staying just outside of range. They are available year-round and you are allowed 30 per person per day. They must be at least 9 inches.
Summer Flounder (Fluke)
Fluke are a delicious, and a strange looking fish if you've never seen them before. They are typically found camouflaged in the sand, sometimes spearfishermen will drop to the bottom and lay down on one without realizing it until the Fluke bolts away. Their season begins May 3rd and they must be 19 inches, you're allowed 6 per person per day. The regulations are different for the Winter Flounder, so it is important to know how to tell the difference between two similar looking fish. Fluke face left when their mouths are pointed up. Fluke can be found in deeper water and around jetties. Be very cautious diving around jetties due to the current and boats.
Winter Flounder are similar to Fluke in both taste and looks. Winter Flounder must be 12 inches to keep and they are open from March 1st through December 31st. You may keep 2 per person per day.
Where to Spearfish in Rhode Island
There are many productive areas to spearfish in Rhode Island that do not require a boat to access. Shore spearfishing in Rhode Island can range in depths from 5 to 40 feet and beyond. Remember to always be conscious of the swell to avoid injury, especially when getting in and out of the water. Dive with a buddy, be mindful of others in the water and give them space, and bring your flag with you to protect yourself from boaters. Visibility is highly variable in Rhode Island and ranges from 3 to 25 feet, averaging 8 feet. Visibility often changes from one location to another, making finding clear water a priority. A spot 1 mile down the road may have different visibility. Spearfishing requires preparation. Choose days with minimal swell and low wind. Use tools like Windfinder to look at marine forecasts and wind predictions. The tides can impact your spearfishing due to the current (and also fish behavior). Diving at slack tide is recommended for lowest current. Use US Harbors to know the tides.
Sachuest Point
Sachuest Point is one of five national wildlife refuges in Rhode Island and is great for spearfishing tautog and striped bass from the shore. The depth ranges from 5 to 30 feet. Diving this location with west winds will present ideal locations. The current can be moderate.
Kings Beach
Kings Beach is a good spot for beginner spearfishermen because there is easy access to the ocean and low current. Tautog, scup, striped bass, and the occasional black sea bass can all be found here. The depth here ranges from 5 feet to 25 feet. Diving this location when the winds are blowing from the North will present ideal conditions.
Fort Wetherill
For Wetherhill in Jamestown is a popular spot for swimming and SCUBA. It's best to avoid spots with crowds when spearfishing, but if you can find a day in Fort Wetherill with few crowds, then this spot is great for spearfishing. This area is also very sheltered from the wind offering calm conditions. Fort Wetherill is great for spearfishing black sea bass, scup, tautog, and striped bass and the the occasional flounder or fluke. The depth ranges from 10 to 35 feet.
What Kind of Gear do I NEED To Spearfish IN Rhode Island?
Support local dive shops by purchasing spearfishing gear from them when you can. Here is what you will need.
Spearfishing Wetsuit

Spearfishing Gun, Pole Spear, or Hawaiian Sling.

Freediving fins

Mask

Snorkel

Gloves

Weight-belt

Floatation device and dive flag

Stringer

Measuring device
Spearfishing WEtsuit
Wetsuits are necessary in Rhode Island, the water can be frigid to cool, but with the right wetsuit, you can dive comfortably. The best spearfishing wetsuits for Rhode Island are between 3mm and 5mm two-piece wetsuits. Choosing the right wetsuit thickness will vary based on what time of year you are going spearfishing and what the water temperature is. Use a chart like this that shows Rhode Island water temperature averages so you make an informed decision on what size wetsuit you'll need. If the water is between 50 and 70 degrees Fahrenheit, most spearfishermen will opt for a 5mm wetsuit. When the water is above 70 degrees Fahrenheit, a 3mm wetsuit will keep you comfortable. Waihana makes excellent wetsuits for spearfishing, there are other options out there that are more affordable if you don't want to break the bank.
Spearfishing Gun
There are many different types of spearfishing guns on the market. In most cases something simple and basic will get the job done. I've been using a Rob Allen 100cm gun for nearly 10 years. More affordable options also include the Cressi Comanche or the Hammerhead Proteus.
Freediving Fins
Freediving fins are longer than snorkel or scuba diving fins, they help divers achieve greater depths and conserve more energy. Rhode Island offers shallow areas for spearfishing, so if you already have a pair of snorkel fins, they will likely work to introduce you to spearfishing. If you are interested in buying a pair of freediving fins, there are 3 main materials you can choose from, each with a different price point; plastic, composite or fiberglass, carbon fiber. Neptonics makes excellent spearfishing that are perfect for beginning your spearfishing journey - you can use the code Max15 to get 15% off anything at Neptonics. Full disclosure, we don't receive any money from Neptonics to recommend them, they are just a top notch resource for spearfishing gear that we want to share with the world.
FReediving Mask
The biggest difference between a freediving mask and a scuba mask is the size of the mask itself. Freediving masks are low volume, which is more advantageous for freediving and spearfishing. Buy a low volume mask in person if possible to ensure that it fits your face. The Omer Alien is a great mask for spearfishing if you don't have the option for buying a mask in person. I recommend shopping with Neptonics or Florida Freedivers for your spearfishing gear. Both stores have a very helpful staff, a wide selection of gear, and will ship to your location.
Spearfishers see the aquatic environment in a way that many do not. They are an elite group that are stewards for the ocean. Please be ethical when approaching spearfishing. You can not catch and release a fish that you spear. Take great shots, and if you are unsure if a fish is the right size, let it swim. If you are interested in learning more about spearfishing you can visit www.spearfishingri.com or contact owner Max Augliere at maxwell.augliere@gmail.com